Mexico's Pacific Coast is growing rapidly! With its sun-drenched blue skies, dramatic jungle-meets-ocean scenery, coastal cuisine, and adventures in nature, big luxury hotel names are moving in alongside jaw-dropping scenery, laid-back surf towns, and sustainable developments.
From the state of Nayarit to Jalisco and northern Colima, here´s our rundown of the areas that make up this stunning stretch of tropical paradise and the key properties to get on your radar.
Riviera Nayarit
Home to the indigenous Cora and Huichol communities, iconic Marieta Islands, world-class surfing, and chilled out beaches galore, the Riviera Nayarit encompasses more than 200 miles of coastline north of Puerto Vallarta.
Chacala
Slow down at Chacala beach town, located on the northern shoreline of Nayarit. Thatched palm roofs, fresh grilled seafood, and soft sands set the scene, where a friendly close-knit community lives an unhurried life among coconut trees and jungle mountainsides. Chacala´s three main beaches see strong waves at Las Cuevas, calmer waters at Chacalilla, and great surfing conditions at La Caleta.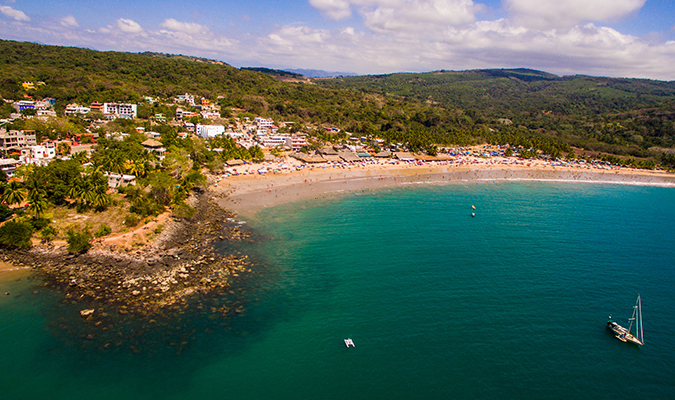 Las Cuevitas Cove
Arriving to Las Cuevitas on a local fishing boat feels like stumbling upon a secret paradise beach hidden in the jungle. The not-so-accessible road adds to the seclusion – you may be the only one here – and creates a magical setting for snorkeling, kayaking, and bathing in clear waters. Come prepared as there´s nothing else around!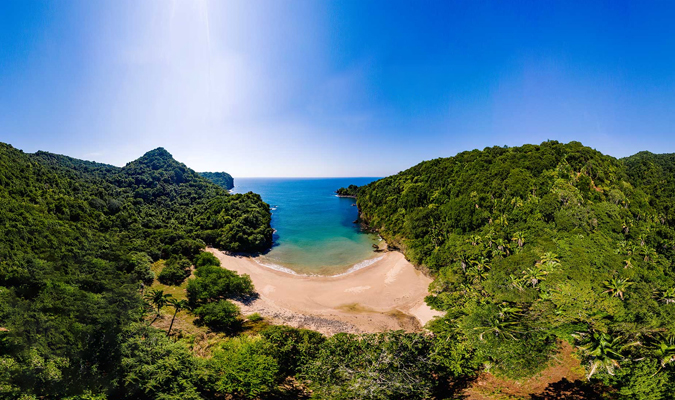 Costa Canuva
Announced back in 2016, Costa Canuva is a close to $2 billion master-planned development that will feature the Ritz-Carlton Reserve Hotel and Fairmont within the Nauka development, a private community designed by world-renowned architect, Olson Kundig.
Nauka covers 750-acres in a cliffside jungle enclave, with private residences and world-class facilities including a beach club, Greg Norman and Lorena Ochoa 18-hole golf course, marina and yacht club, lacrosse fields, spa and wellness center, a community organic garden, and miles of unspoiled beaches. Nauka property owners will also enjoy access to the amenities of the 5-star Ritz-Carlton, set to open in the fall of 2023 with over 90 luxury hotel rooms and 14 suites. Preparations for the Fairmont are in process, with no confirmed opening date just yet.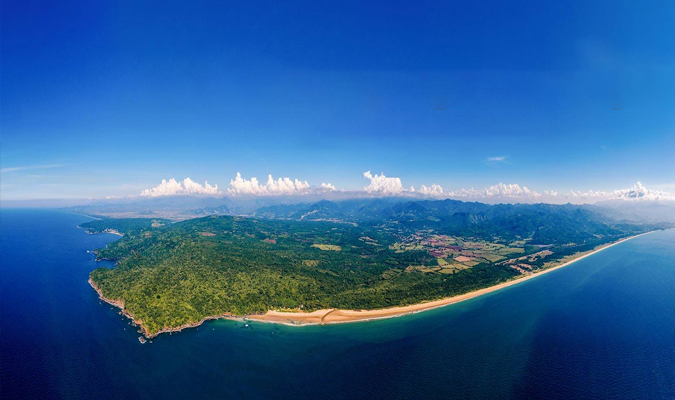 Mandarinas
The Mandarinas development is surrounded by verdant Sierra de Vallejo Mountains, palm-scattered beaches, tropical rainforest, and quiet coastal towns on the neighboring shores.
Opened in 2020, One&Only Mandarina calls this incredible setting home, featuring 104 standalone treehouses and clifftop villas with breathtaking views and private pools. The property was carefully planned to preserve and nurture native flora, wildlife and ecosystems while providing an immersive luxury experience in nature. The resort features miles of hiking and biking trails, ocean activities, infinity pools, stunning beaches, a kids club and adventure playground, ziplines, tennis and basketball courts, the Mandarina Polo & Equestrian Club, spa and wellness rituals.
Private residences can be purchased, perched along the mountainside or immersed in the rainforest, with access to the resort´s facilities and exclusive discounts on services.
Set beside a tranquil estuary, Rosewood Mandarina is set to open in 2024. The residential-style resort will encompass a collection of private residences, eateries, a beach club, and signature Asaya spa.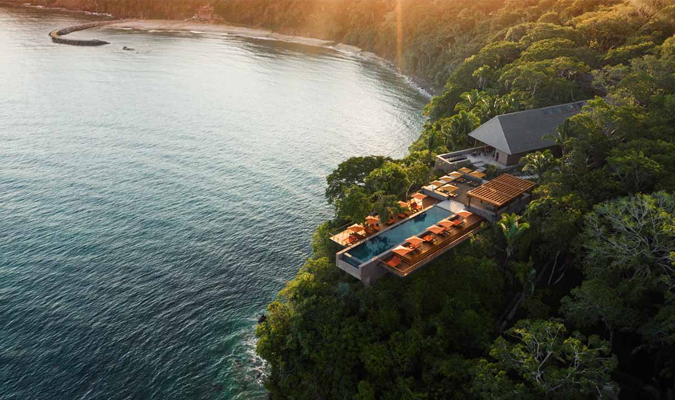 San Pancho
Casual restaurants, boutiques and stalls with jewelry and artisan goods line the main street of this chilled bohemian town, leading to a golden sand beach, coconut trees, and great waves for surfing. Locals and travelers make up a close community, where beachgoers clap as the sun melts into the ocean each evening.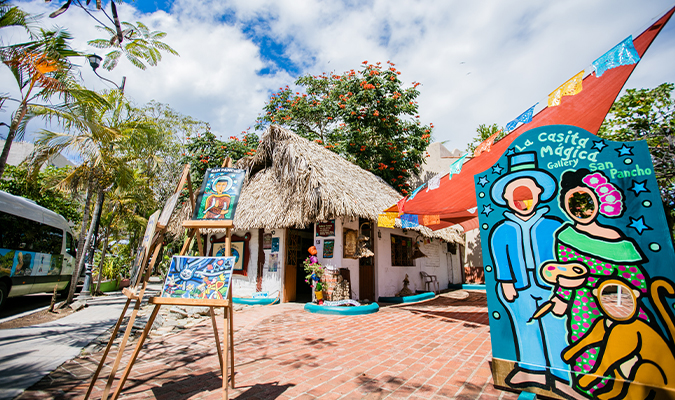 Sayulita
Over the past decade this sleepy fishing town has boomed into an international hub with a fun party scene and vibrant surf culture. Shop boutiques and stalls in cobblestone streets lined with colorful bunting, explore art galleries, and find your favorite breakfast spot before a day on the beach.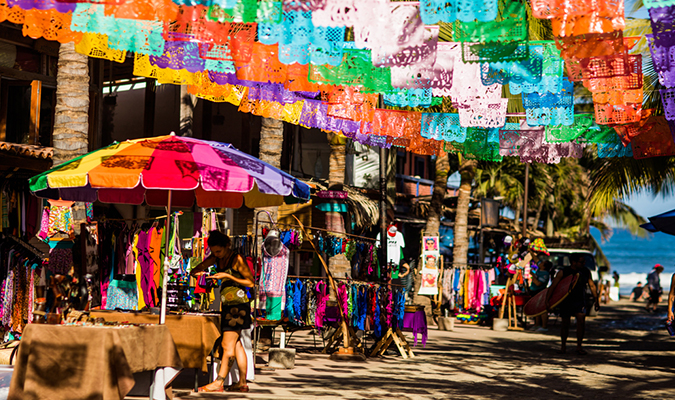 Punta Mita
This coveted, spear-shaped peninsula lies around an hour´s drive north of Puerto Vallarta International Airport. Tropical beauty, coastal cuisine, and Pacific Ocean meet opulent residential communities, the Four Seasons and St. Regis luxury resorts, plus swanky beach clubs and two Jack Nicklaus Signature golf courses. Poised for both relaxation and adventure, travelers can snorkel by the striking Marieta Islands, spot wintering humpback whales, and catch world-class waves at local surf spots.
In late 2022, the four Seasons opened, Naviva, an adults-only luxury tented resort surrounded by beautiful nature with views of the Pacific Ocean. The sustainability-focused design features solar panels, natural drainage, and upcycled artwork, alongside the luxury of private pools and spacious decks.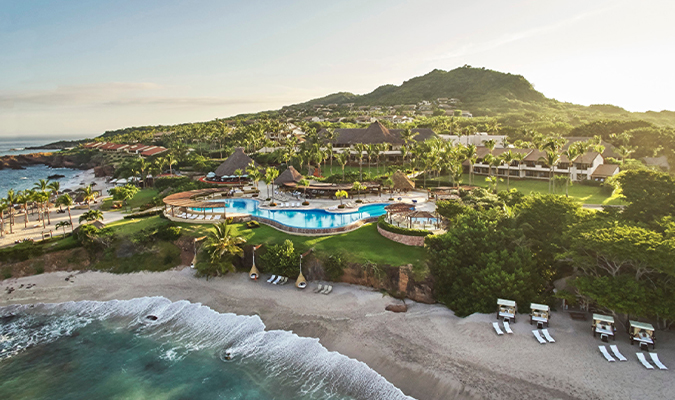 Conrad Punta de Mita
Opened in 2020, the Conrad Punta de Mita lies within the Litibu gated community on a beautiful sandy beach. Surrounded by lush vegetation, the 324-room luxury resort offers three pristine swimming pools, the Conrad Spa with its hydrotherapy area and Mesoamerican sweat lodge (temazcal), and a choice of fine dining experiences.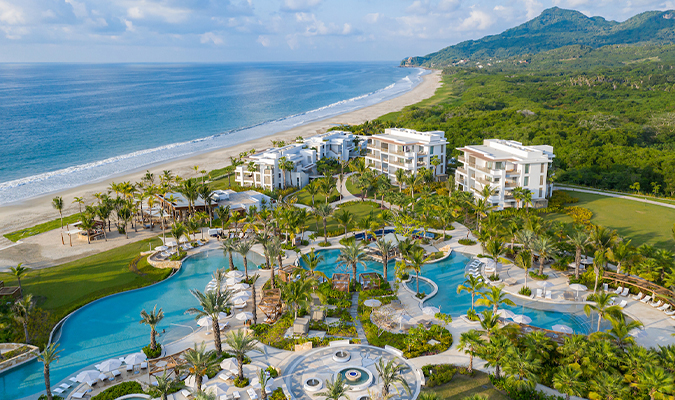 Susurros del Corazón Auberge Resorts Collection
This tranquil beachfront resort opened in winter of 2022, offering 59 sophisticated guest rooms and suites with large, nature-framing windows. Verdant gardens flow down to the pristine shoreline and three infinity edged pools invite guests to soak up the sunshine. Located a little south of Punta Mita, Susurros del Corazón is just a 45-minute drive from Puerto Vallarta airport.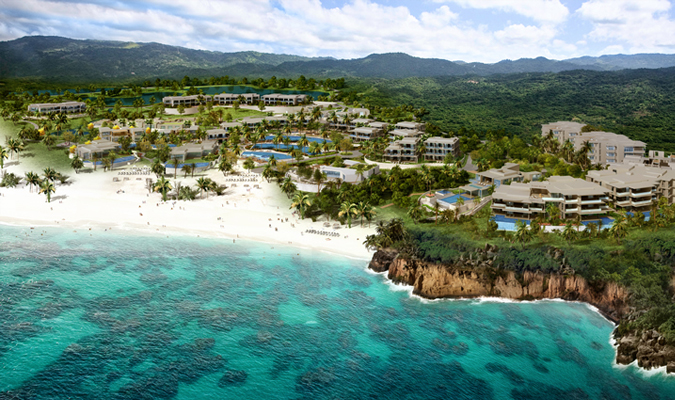 La Cruz de Huanacaxtle
This cheerful fishing village is home to Banderas Bay´s most modern marina, a three-mile golden beach, and a bustling Sunday market that hosts everything from skilled artisan crafts and artwork, to flowers, food, and jewelry.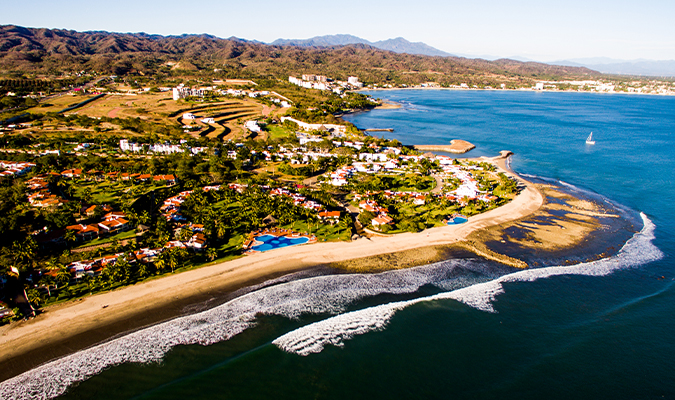 Bucerias
Bucerias is a traditional coastal town that attracts international and national travelers for its sandy beach, laid-back vibe, and calm waters. Families come to spend a relaxing day, and many retirees make a second home here over the winter months. Visitors can have fun with an array of water activities, wander the winding streets past craft and souvenir stalls, or enjoy the sunshine in the sand. Taste fresh seafood at local eateries or explore the more upmarket restaurants and hipster breakfast spots that have popped up in recent years.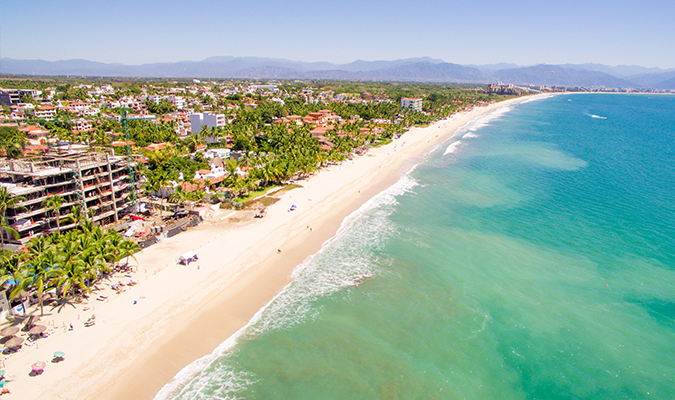 Nuevo Nayarit (previously known as Nuevo Vallarta)
Nuevo Nayarit´s long sandy beach and gentle waters attract locals and travelers alike. One of Nayarit's´ most visited destinations, there´s no shortage of condos, luxury hotels, boutique shopping, golf courses, and adventure activities in the ocean. Nuevo Vallarta lies on the border with Jalisco state and is located just a 20-minute drive from Puerto Vallarta airport.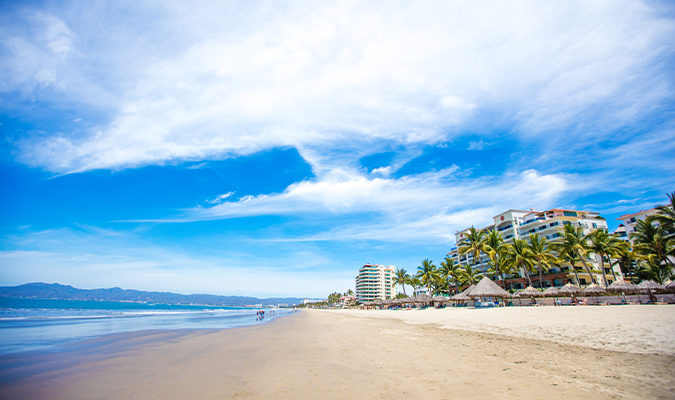 Puerto Vallarta
The gateway between the Riviera Nayarit and Costa Alegre, Puerto Vallarta was once a sleepy fishing village whose tropical scenes and paradise beaches burst into the global consciousness after ´The Night of the Iguana´ movie was filmed there and released in the 60s. This chilled coastal city continues to grow exponentially; creating a juxtaposition of quaint cobblestone streets and modern apartment blocks, peaceful beaches and raucous fiesta, traditional taco stands and fine dining restaurants. You can explore family neighborhoods, take a yacht onto the water, zipline through jungle canopy, or stroll the Malecón boardwalk and enjoy the sea breeze. Puerto Vallarta maintains its charm and beach town rhythm, while stepping into the shoes of one of Mexico´s major beach destinations.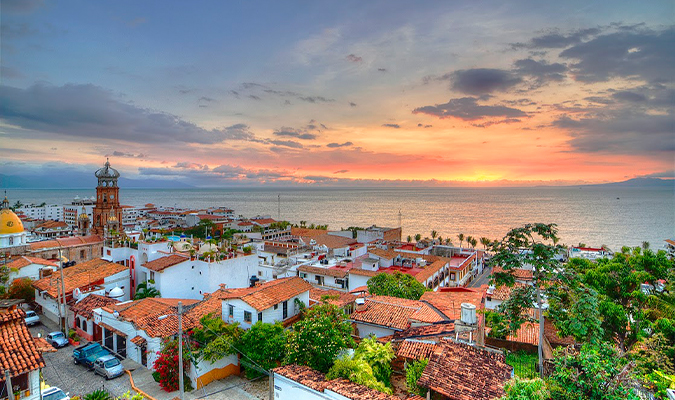 Costa Alegre
Meaning ´cheerful coast´ in Spanish, the Costa Alegre stretches some 57 miles from the beaches south of Puerto Vallarta to Navidad Bay, just before the border between Jalisco and Colima states. This rugged coastline boasts a wild beauty and sense of seclusion that´s great for those looking to get off the grid for a while, surrounded only by chilled oceanside towns, beautiful coves and extraordinary views to the horizon. The oceanview Highway 200 winds its way down the coastline, with Puerto Vallarta and Manzanillo airports on each end.
Xala
The highly anticipated Xala project has claimed its place on the Costa Alegre, spanning 3000 acres of white sandy beaches and agricultural hillsides. Developed with a socially and environmentally conscious approach, Xala aims to benefit the families and residents already living in there, while proposing the destination as a luxury lifestyle community including new residences, a handful of hotel brands, and beach clubs. The community side of the project is already underway, with a skate park, culture and learning centers, and reforestation and agricultural projects in place. Visitors will be able to arrive at some point in 2023, with the opportunity to participate in environmental, social, and agricultural community projects.
Chalacatepec Airport is also underway just 5 minutes from the development.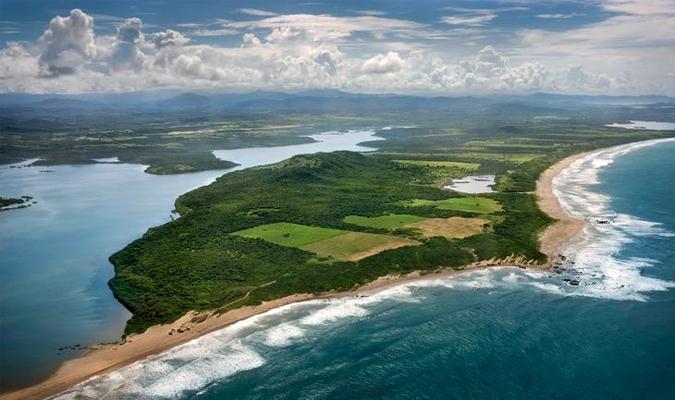 Costa Careyes
Careyes was founded by Gian Franco Brignone in late 1960s as a secluded hideaway for creatives, celebrities, and high-end bohemians. In this exclusive enclave you´ll find brightly painted villas built into the cliffsides, casitas, bungalows, and even a Polo Club. The Careyes Foundation was set up to protect the local environment and benefit 12 rural communities along the surrounding coastline, hosting a turtle sanctuary, sports, music, and art programs, a vocational training center, and children´s English initiatives.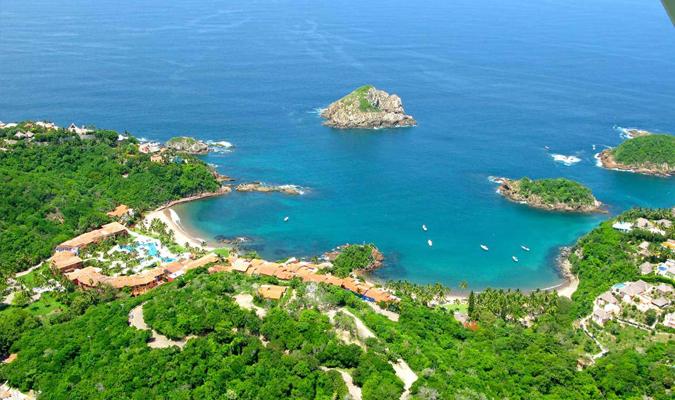 Four Seasons Tamarindo
Within this spectacular setting, the Four Seasons Tamarindo opened its doors in late 2022, raising the bar for luxury resorts in Mexico. Immersed in a 3,000-acre nature reserve, the grounds encompass cliffs, verdant jungle, pristine beaches, and a 34-acre working farm. Contemporary architecture blends into the surroundings and all 157 accommodations enjoy expansive views of the Pacific Ocean. There´s a spa, oceanview golf course, fine dining, a trio of infinity pools and plenty of activities to connect with nature and local culture.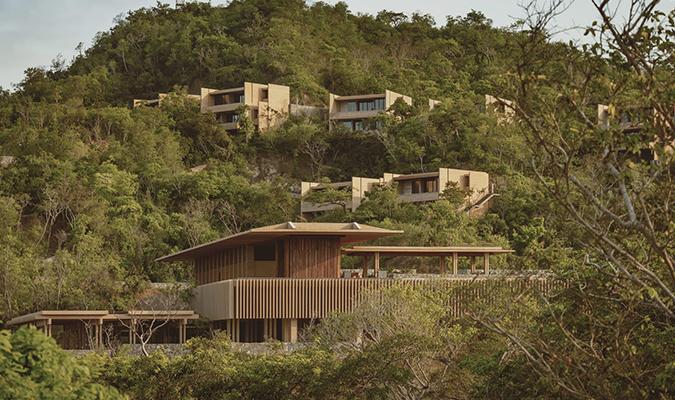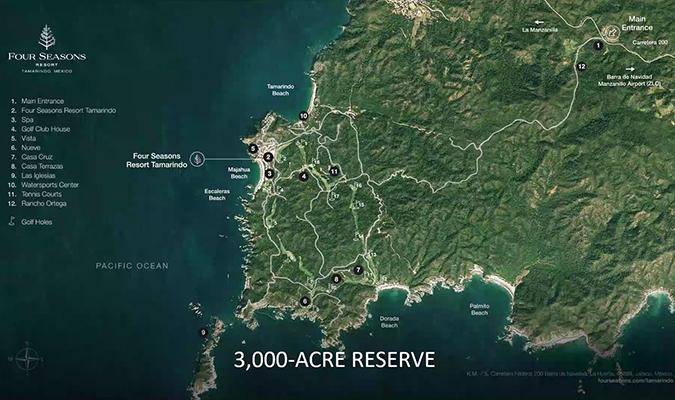 Manzanillo
This important port town in Colima state is a favorite for holidaymakers thanks to its relaxing pace, fresh seafood, great beaches, and authentic Mexican feel.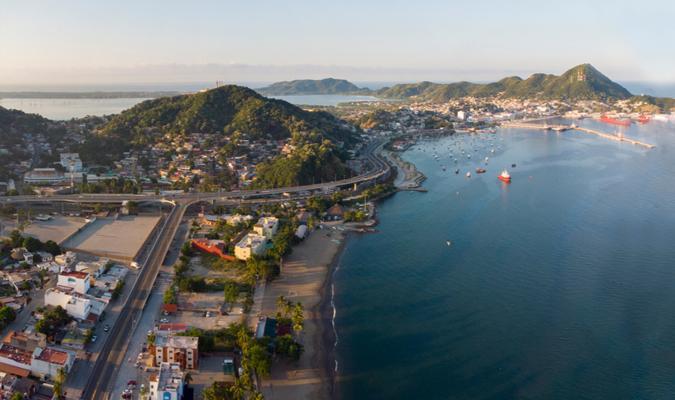 Ready to include a Visit to Riviera Nayarit and Costa Alegre in your Custom travel itinerary?
To begin customizing your travel itinerary to the Pacific Coast, contact Journey Mexico´s team and speak to a travel planner . Our personalized itineraries are completely tailor-made to your individual interest and include accommodations, private transfers, and unique experiences with a private, bilingual guide. Trips start at $1,800 USD per day for two travelers.