The continued presence of sargassum seaweed (a.k.a sargasso, sargazo) on the beaches of Mexico continues to be a concern to many travelers. For those wondering what their experience will be like on their upcoming vacation, we invite you to read more about the problem and how local authorities, hotels, and students are handling the situation.
Overview on Sargassum in Riviera Maya, Cancun, and Tulum
The 2023 sargassum season started earlier than anticipated, beginning in February. Historically, the seaweed typically starts at the beginning of spring due to a rise in sea temperature, which accelerates the reproduction of the seaweed. As the days get warmer, the presence of sargassum is expected to increase.
Generally, beaches with the highest seaweed count include Playa del Carmen, Tulum, Siaan Kaan, and some points between Cancun and Puerto Morelos, however, predicting which beach the sargassum seaweed will impact and in what quantities is nearly impossible as conditions change almost daily and typically without much warning. The overarching consensus from specialists is that this natural phenomenon poses no ecological threat or health concerns. That said, when it accumulates on the beach the experience may be quite different than expected, often limiting access to the beach and sea accompanied by an unpleasant odor. The seaweed  can range from low to high quantities depending on tide, wind, and other factors. 
Over the past years, the Mexican government and hotels along the coast have stepped up their efforts to tackle it, however, the majority of low-budget hotels and hostels do not have the means to clean their beaches on a daily basis.
If you're keen to avoid sargassum on your Mexico visit, make sure to stay in a hotel that has staff constantly monitoring the ever-changing situation and has the means to tackle the issue.
Plan your vacation with Journey Mexico and we can help you find a hotel that has the means and resources to clean their beaches every day and keep your vacation as sargassum-free as possible.
Read on to discover the latest news on sargassum…
Read more: 5 Mexican Beach Destinations Without Sargassum
Latest news on sargassum seaweed 2023
New Hotel Council of the Mexican Caribbean created to facilitate tourists and put order into vacation rentals. Read more.
The Navy successfully installed over 9,050 meters (around 29,691 feet) of anti-sargassum barriers along the coast of Quintana Roo including 1,850mts in the Chetumal/Mahahual area, 2,400mts in Puerto Morelos, 2,500mts around Playa del Carmen and Puerto Aventuras, and 2,300mts in Tulum. There are also 328 people,  16 small boats, and 11 sargassum vessels dedicated to helping the situation. Read more.


The Riviera Maya reported that in the month of February, sargassum levels dropped significantly. Read more.
If you're heading to a beach in Florida, the Gulf of Mexico, or the Caribbean this summer, you may find yourself stepping over part of the massive Great Atlantic Sargassum Belt. Read more.
Beach pictures from hotels in the Mexican Caribbean
Updated March 2023: As part of our on-going efforts to monitor the sargassum seaweed situation, we are in regular contact with our hotels in the affected areas.
Below are some images from the Riviera Maya and Isla Holbox: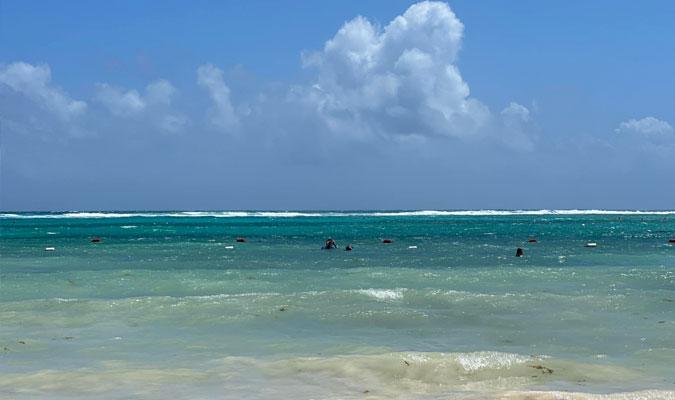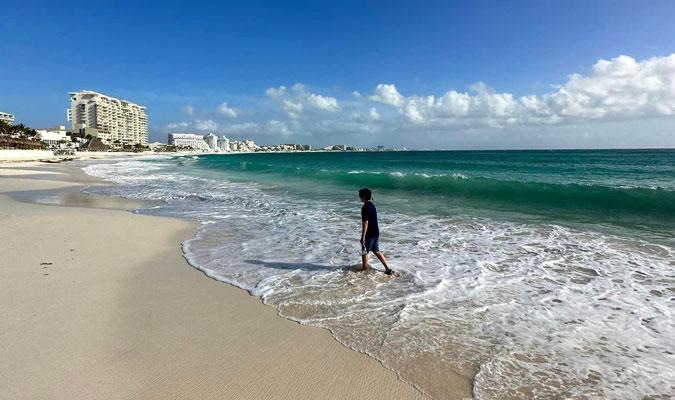 Club Med and Nizuc, Mar, 2023.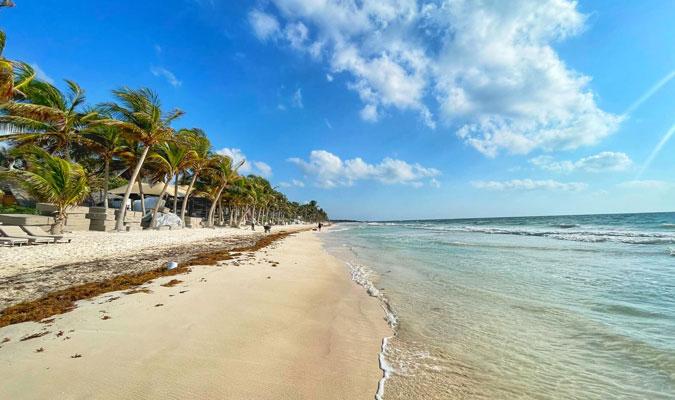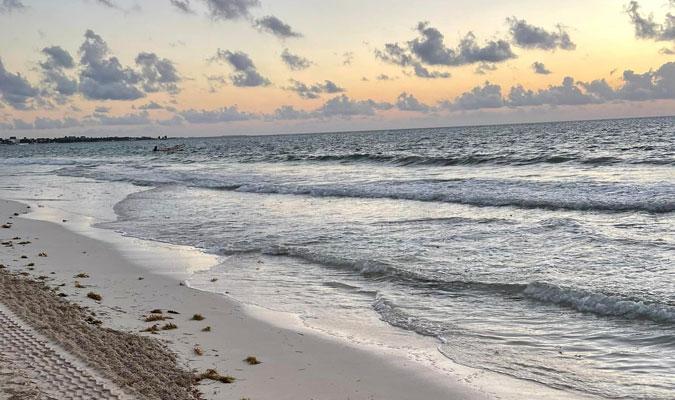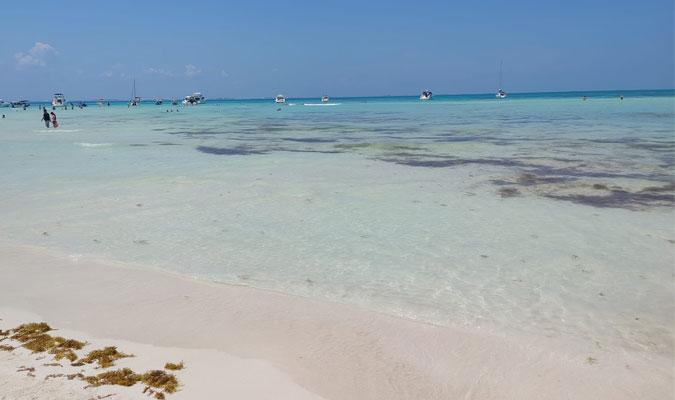 What action are the hotels taking?
Paradisus Playa del Carmen: When sargassum is present on the beach, the hotel manually cleans the seaweed throughout the day. 
Andaz Mayakoba: When sargassum presents, the resort sends a boat out to fish the seaweed out of deep waters and a team of 20 people manually cleans the beaches daily. 
Jashita: In the case of sargassum, the hotel has a team of people that manually clean the beach throughout the day. 
Banyan Tree Mayakoba: When the seaweed appears, the resort´s staff clean the beach daily. Depending on the volume of sargassum, this may be done manually or using machinery. 
Chable Maroma: The hotel carries out daily cleaning when necessary, employing a tractor and team of staff from 7am to 3pm.  
Sargassum seaweed map
Check out the Sargassum seaweed map below to see which parts of Mexico have been affected. Last updated March 30, 2023.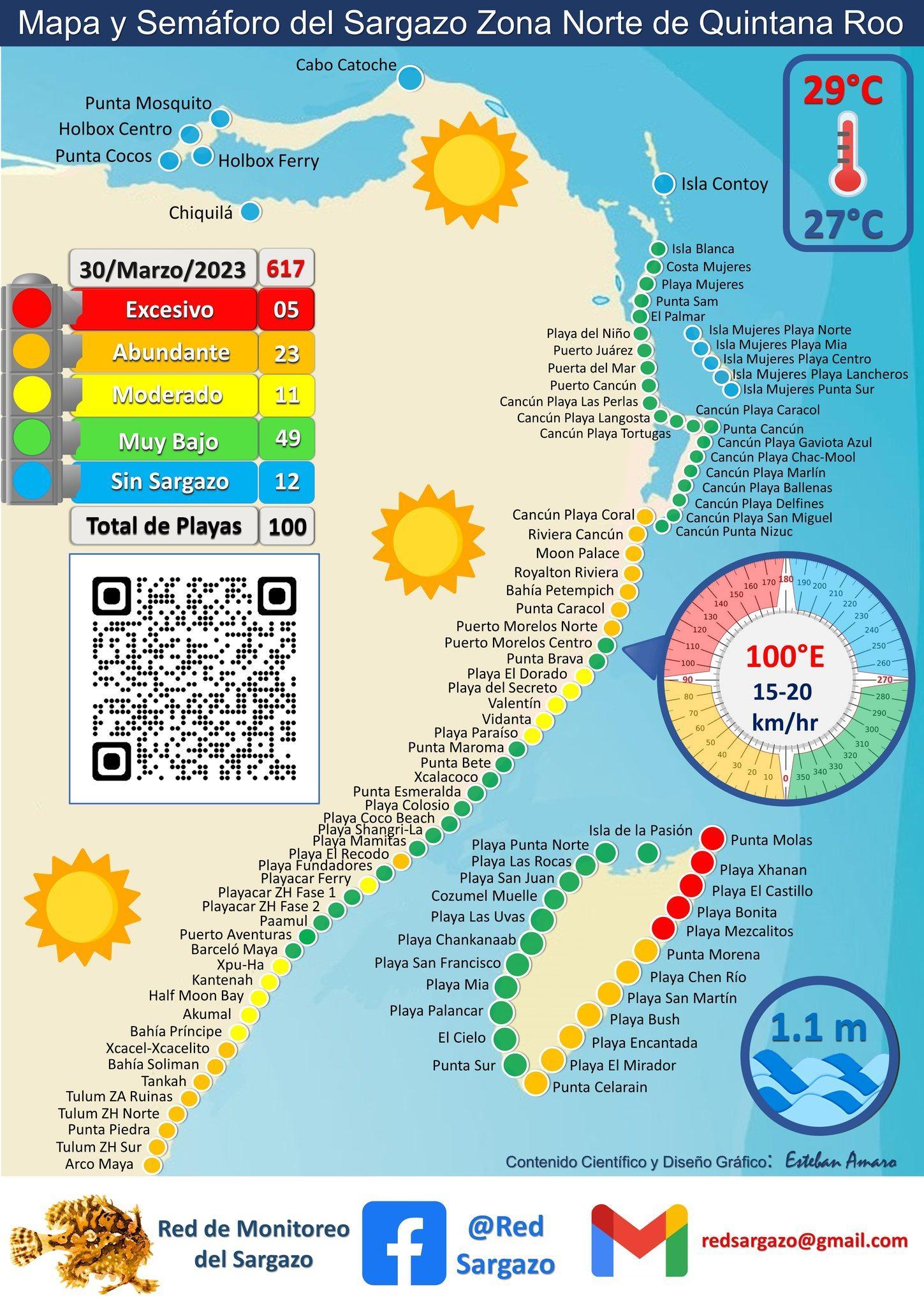 ---
Everything you need to know about sargassum
What is sargassum?
Sargassum is a brown seaweed with buoyant, oxygen-filled bladders that keep it floating on the surface of the water. It can clump together in huge masses, often miles long, and has been known to wash up on the shores of beaches along the Caribbean coast from the United States all the way to Argentina.
As reported in our post "Mexico and Mother Nature – What you Need to Know 2015",  the sargassum occurrence — which has many ecological benefits — is not dangerous nor continuous and often unpredictable. One week there may be large mounds of seaweed heaped on the beaches and obscuring the translucent sea, while others the beaches are perfectly clean.
Many hotels are taking measures to provide clear beach access through clearing the seaweed and removing it from the beach, while others are unable or unwilling to do so due to a lack of human and financial resources, an unwillingness to alter naturally occurring patterns or long-term concerns that the seaweed will actually protect and enhance their beaches.
The seaweed accumulation has been most prolific on stretches of exposed beach and less noticeable in areas that are protected by natural headlands, bays, or coves. Read more: What You Need to Know about Sargassum Invading the Caribbean.
Where is it coming from?
To find out exactly where sargassum is coming from and how it ends up on Mexico's coast, we spoke to Florida Atlantic University's Dr Brian Lapointe, a research professor and leading expert on sargassum.
He told us that, after studying satellite imagery, it's understood there is a large amount of seaweed growing between the coast of Africa and Brazil, an area they have coined the Great Atlantic Sargassum Belt.
In that region, there is a range of nutrient sources that are feeding the sargassum and helping it to bloom. These include nutrient-rich run-off from the Amazon River and the Orinoco. There is also a phenomenon known as upwelling, in which nutritious seawater rises from the bottom to the top of the ocean, which helps to feed the floating plant.
Dr Lapointe also pointed out that he has seen areas of low temperature off the coast of Africa, which could indicate nitrogen is coming from the deep seas. Other sources of nutrients include Saharan dust coming from Africa.
The seaweed is moved from the Great Atlantic Sargassum Belt to Mexico and the Caribbean region by hitching a ride on currents. As it makes it way along these streams, the sargassum picks up more and more nutrients and continues to grow.
Sargassum seaweed facts
Floating sargassum rafts provide a wonderful natural habitat for many sea creatures. According to the National Oceanic and Atmospheric Administration, fish, sea turtles, marine birds, crabs, shrimp, and more all call this floating island home.
There are more than 300 different species of sargassum including sargassium muticum (more commonly known as Japanese wireweed), and sargassum horneri (also known as devil weed).
The Sargasso Sea is the only sea in the world without a land bordering it and, as you might expect, is home to large swathes of floating sargassum seaweed. The sea itself was reportedly discovered by explorer Christopher Columbus and his crew who crossed it in 1492.
In 2018, Quintana Roo businessman Omar Vázquez Sánchez made good use of the local sargassum build-up when he

built an earthquake- and hurricane-resistant home

from a mixture of sargassum and adobe.
---
Originally Posted: August 2015
Post last updated: March 2023