OVERVIEW
ITINERARY DETAIL
DATES AND PRICES
To experience the great monarch butterfly migration in the forests of Michoacán is to witness one of nature's greatest miracles. Millions of orange-and-black animals congregating in the dappled light, sun dancing off their delicate wings.
On this trip, explore Mexico's butterfly reserves and learn all about this magnificent spectacle from a highly knowledgeable guide. Also discover the beautiful cities of Morelia, Patzcuaro, and San Miguel de Allende, exploring the lesser-visited outlying areas, and witnessing the work of local artisans and pre-Hispanic engineers.
At Patzcuaro, explore the cultural and artisanal center of Michoacan State, while San Miguel de Allende, one of the world's most beautiful cities, will dazzle with its vivid streets, unique markets, and distinguished art galleries. Indulge in its world-class culinary offerings plus its burgeoning wine scene in the countryside.
PHOTO GALLERY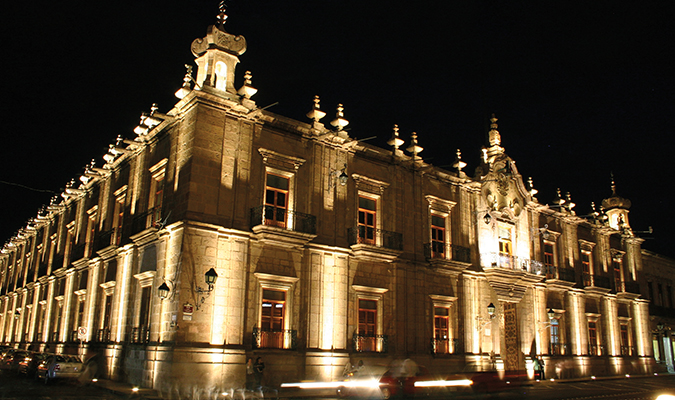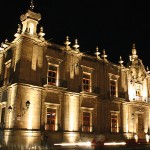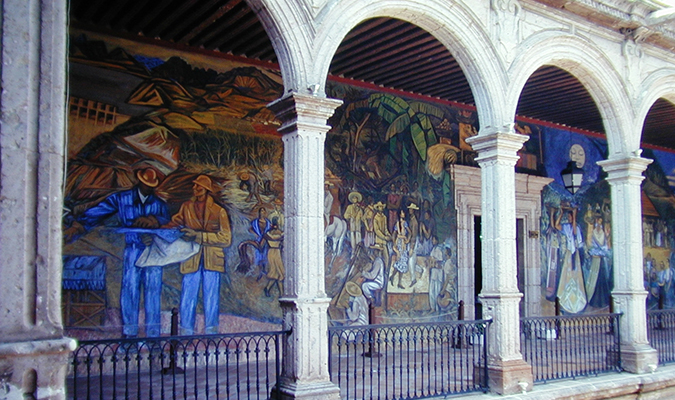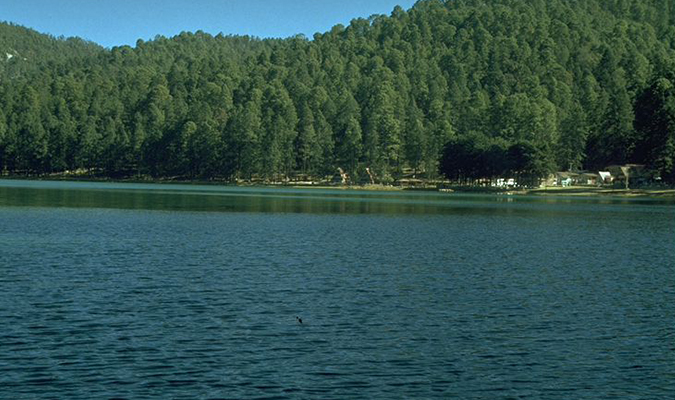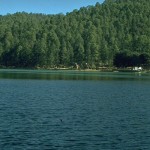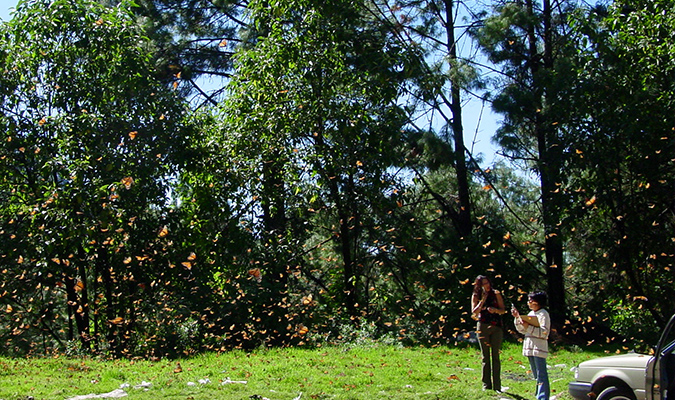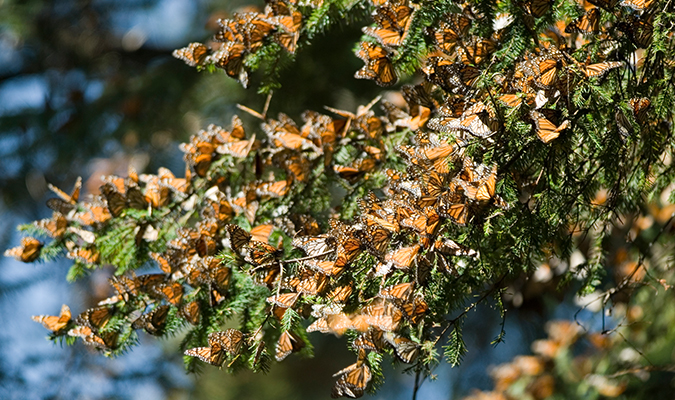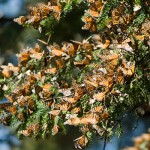 HIGHLIGHTS
El Rosario Sanctuary – Visit the winter sanctuary of millions of monarch butterflies, exploring the grounds with an expert guide.
Sierra Chincua Butterfly Reserve – Explore this gorgeous butterfly reserve, witnessing clouds of monarch butterflies as they dance in the sunlight.
Morelia – Tour Michoacán's UNESCO World Heritage City and discover its beautifully maintained and restored colonial architecture.
Patzcuaro – Visit this Pueblo Magico and its lake district, surrounding artisanal communities, and local Purepecha people.
Santa Clara del Cobre – Discover the hidden charms of this Pueblo Magico and its famous artisanal copper-working community.
San Miguel de Allende – Visit this stunning Colonial city recognized as the "Best Small City in the World" and experience a unique chef-guided culinary tour.
CUSTOMIZE
Feeling Creative?
You can customize this itinerary by adding or removing the tours and activities.
Go to our Online Journey Builder to start customizing this itinerary
Day 1: Arrive in Morelia, take a city tour, and transfer to Pátzcuaro
At Morelia International Airport, enjoy a warm greeting to Morelia, the capital of Michoacán, from a Journey Mexico representative and a private transfer to the luxury hotel. If there's time, enjoy a privately guided tour of Morelia's outlying areas, the beautiful historic center, and its masterfully restored 17th and 18th-century colonial mansions.
After, enjoy lunch at one of the many fine restaurants in the city center before heading to Pátzcuaro, home for the next two nights. With the lovely accommodation located right next to the central plaza, enjoy a delightful evening at leisure, exploring the local wonders.
Overnight: Casa de La Real Aduana
Day 2: Take a private full-day tour of Pátzcuaro, Tzintzuntzan, and Santa Clara del Cobre
Take a private excursion into the atmospheric Purepecha highlands to discover one of Mexico's lesser-known archeological zones, the lakeside Tarascan site of Tzintzuntzan, and marvel at its unique oval-shaped Yácata temples.
After, travel to Santa Clara del Cobre, a Pueblo Magico and former copper mining community. Here, observe the fascinating artistry of the local copper-smiths and see their exquisitely crafted pieces. Watch families of three or four generations working on their art with an almost unbelievable amount of skill.
Then, visit the central plaza, named after the Spaniard in charge of building the town after the Spanish conquest, Vasco de Quiroga. Wander its gorgeous cobblestone streets, spotting its colonial and indigenous influences as the expert guide reveals its fascinating history.
Next, enjoy a panoramic view of Lake Pátzcuaro's shining waters and the rocky island of Janitzio. In the colonial village of Pátzcuaro, be sure to try some local Tarascan delicacies before returning to the charming hotel for the rest of the day at leisure.
Overnight: Casa de La Real Aduana
Day 3: Enjoy a morning at leisure in Pátzcuaro and take a private transfer to Zitácuaro via Cuitzeo
Journey towards the verdant winter home of the brilliantly colored monarch butterflies, spending the night in a beautiful country hotel nestled among pine and fruit trees.
En route to Zitácuaro, stop in Cuitzeo and explore this charming town of narrow streets and its buildings dressed with white facades and tiled roofs.
Discover the former Santa María Magdalena monastery, a 16th century complex located in the main plaza and, if you'd like, take advantage of the area's excellent winter bird watching opportunities.
Overnight: Rancho San Cayetano
Day 4: Explore El Rosario Butterfly Biosphere Reserve
Today marks your first sighting of the great monarch butterfly migration — a heavenly experience that you will never forget.
At El Rosario Butterfly Biosphere Reserve, take an enchanting walk through the fir forests. As you continue along the path, notice how the forest thickens as you approach the spot where more than 60 million butterflies congregate after an eight-month journey.
On arrival, marvel as you see the sunlight glinting off their wings, a remarkable display of light and color. Your knowledgeable guide will add expert insight to the experience, revealing more about the ecology, natural history, and conservation efforts behind this ethereal experience.
Please note: The reserve's altitude varies from 8,000 to 10,000 feet above sea level. These encounters require the ability to walk for more than an hour along a steep incline that can be considered moderately strenuous.
Overnight: Rancho San Cayetano
Day 5: Discover Sierra Chincua Butterfly Biosphere Reserves and transfer to Morelia
Your time among the monarchs continues with a visit to another major sanctuary, the Sierra Chincua Monarch Butterfly Reserve.
Surrounded by shimmering clouds of these mystical creatures is a dreamlike experience. Take the time to pick out individual butterflies and watch them navigate their way through the masses. Again, your expert guide will provide information about their lifecycle plus their extremely important role as a pollinator.
After the monarch experience, the journey continues to Morelia for your overnight stay.
Overnight: Casa Grande Hotel Boutique
Day 6: Private transfer to San Miguel de Allende, private evening tour, deluxe wine pairing at Dos Buhos Vineyard
Depart from Morelia and journey towards San Miguel de Allende. On arrival, spend time exploring the local area (or relax in your hotel) before meeting your guide for an exciting evening of wine tasting at Dos Buhos Vineyard.
Delve into the rich world of local wines with a visit to Dos Buhos boutique winery, located just outside San Miguel de Allende. Your evening will include a tour of the gorgeous property and the winemaking facilities before enjoying a pairing of five wines and a light gourmet dinner.
Day 7: Explore San Miguel De Allende, visiting art galleries and studios

Explore the colorful historic center of San Miguel de Allende, visiting the iconic central plaza, where locals chat under the shade of the trees before going inside San Miguel's famous pink church (Parroquia de San Miguel Arcangel).
Next, visit art galleries and contemporary art studios at La Aurora and observe budding Mexican artisans at work at the Institute of Culture. Then have the intimate experience of visiting a local workshop at a family's home where you will see how traditional woolen rugs are created.
You may also visit the Cultural Center of Arts School, a papier-mâché shop and more artisans' studios.
Please note: This experience will be designed according to availability of the artisans and based on traveler's interests.
Day 8: Depart from San Miguel De Allende
On this final day, your driver will meet you for a private transfer to Leon Guanajuato or Queretaro Airport for your flight back home.
***Optionally you may also enjoy adding an extension to your vacation and visiting the beaches of Los Cabos or the Riviera Maya, flying directly from Leon airport to San Jose del Cabo or from Queretaro Airport to Cancun.***
Dates
This trip can be customized for a private journey November through March.
Prices
Our custom-tailored journeys start from $1,000 USD per day for two travelers. Contact us today to discuss your travel desires and design a personalized proposal with exact pricing.
Please note, our pricing guideline is a starting from price and is not necessarily applicable to the suggested hotels contained within the suggested itineraries on this web site. Itineraries are customized before final pricing.