Visiting cenotes in Mexico is one of the most magical experiences you can have as a tourist to the country.
And with more than 6,000 in the Yucatan Peninsula alone, there are plenty to visit.
But what are cenotes? And how are cenotes formed? Here we'll take you through everything you need to know and give you three cenotes we think you should visit.
All about cenotes
What are cenotes?
Cenotes are natural sinkholes, typically with fresh water at the bottom. The name comes from the ancient Maya word ts'onot, which roughly translates as sacred well. The ancient Maya considered cenotes sacred, partly because they were a source of fresh water. Archaeologists have found human bones and jewelry at the bottom of cenotes, which has led to the belief that they were used as places of human sacrifice, although this is contested.
How are cenotes formed?
Cenotes are formed when porous rock (typically limestone) collapses, exposing a hidden, subterranean cave filled with water.
Where are the cenotes in Mexico?
The majority of the cenotes in Mexico lie in the Yucatan Peninsula. Estimates put the number at more than 6,000. The most famous is probably Cenote Dos Ojos, which is a beautiful cave system and popular snorkeling and scuba diving site.
What are the different types of cenote?
Cenotes can be classified into four different types:
Jug or pit cenotes: Named after their shape, jug or pit cenotes have a wider water diameter then their surface entrance.
Cylinder cenotes: Cylinder cenotes are defined by their vertical walls.
Basin cenotes: Basin cenotes have a shallow water feature (shaped like a basin).
Cave cenotes: Cave cenotes will typically have an entrance from the side, rather than the top.
 
Three cenotes to visit
Cenote Ik-Kil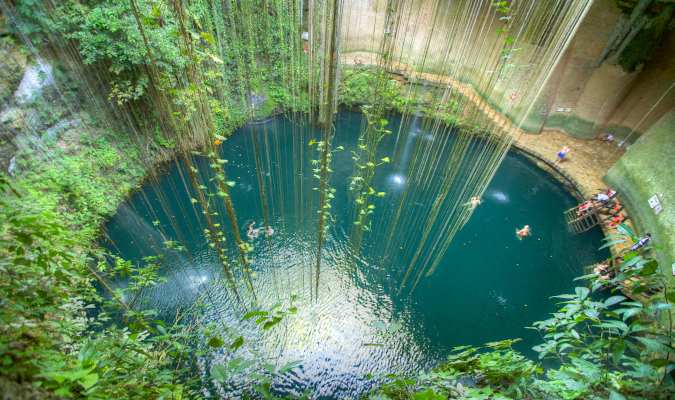 Where: Ik-Kil Archeological Park near Chichen Itza, Yucatan
Hanging vines, small waterfalls, and sheer walls make Cenote Ik-Kil one of the most visually arresting cenotes in Mexico. Visitors can swim and snorkel its deep waters which are the home of black catfish. Its natural beauty, however, belies a bloody past. The ancient site was considered sacred by the Maya people who (allegedly) used it as a place to make human sacrifices to the rain god, Chaac. Human bones and jewelry, found at the bottom of the sinkhole, are assumed to belong to the victims.
Take our Swim With Whale Sharks And Visit Ancient Ruins tour which includes a visit to Cenote Ik-Kil. Other exciting activities on the tour include a private tour of Chichen Itza, swimming with whale sharks, and a visit to the Pueblo Magico, Valladolid. Click more info to find out more.
Cenote Dos Ojos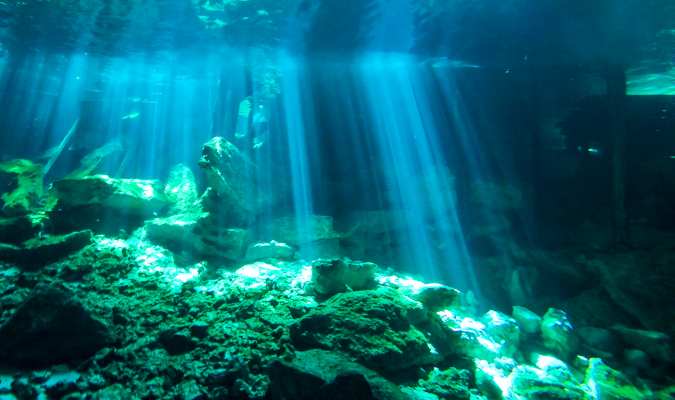 Where: Dos Ojos Natural Park, near Tulum
Cenote Dos Ojos — which translates to Two Eyes Cenote — is one of the largest underwater cave systems in the world and named after two sinkholes linked by a 400 meter-long passage. It has become a popular site to snorkel or swim thanks to its crystal-clear water and stunning underwater geological formations. Divers also benefit from year-round comfortable water temperatures of around 25°C (77°F).
Take our Highlights Of The Yucatan Peninsula tour which includes a stop at Cenote Dos Ojos. Other highlights on this adventure include guided tours of Maya ruins, a visit to the UNESCO World Heritage City of Campeche, and a stay at Xixim, a hotel in the Celestun Biosphere Reserve. Click more info to find out more.
Cenote Xcanche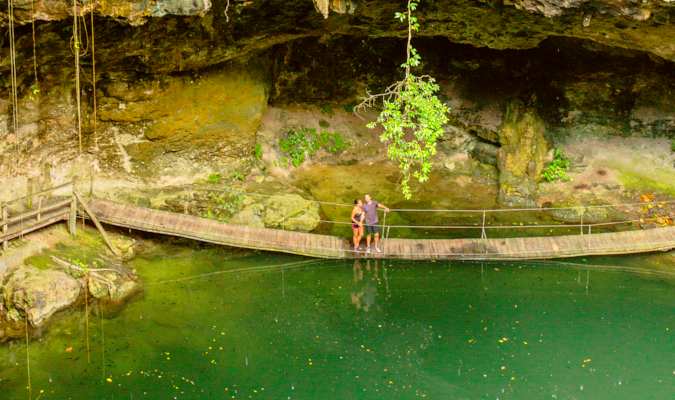 Where: Ek Balam archaeological site, Yucatan
Nestled within the Ek Balam Archaeological Site is Cenote Xcanche, a gorgeous natural sinkhole of lush vegetation, hanging roots, and stunning geological formations. At 18 meters-deep, the waters are perfect for swimming and diving. Visitors can also lookout for the rich birdlife which flutters from one side of the opening to the other.
Take our A Journey Through The Yucatan With Coqui Coqui tour which includes a visit to Cenote Xcanche. Other stops on this tour include the Celestun Biosphere Reserve, Ek Balam Archaeological Site, and Chichen Itza.
Mexico Cenotes: Plan Your Visit
Speak to a Journey Mexico travel planner today to organize an incredible cenote exploration. We can organize private tours to some of the most beautiful cenotes in the world, and even take you on an underwater exploration. Click the more info button below to start planning your adventure.