Condé Nast Traveler magazine's contributing editor, Mark Schatzker was recently reporting from Mexico City when he found himself hungry for some traditional Mexican food.  In his article, ""An Envelope of Joy" featured in the July 3012 issue of Condé Nast Traveler,  Mark tantalizingly describes what a tamale is and the joy of sinking his teeth into the warm corn masa.  Hungry for more and knowing that there are endless variations of tamales in Mexico;  he called upon  Journey Mexico asking for some advice about the best tamale destination.
As a result, Journey Mexico's expert recommendation landed us a spot in Condé Nast Traveler!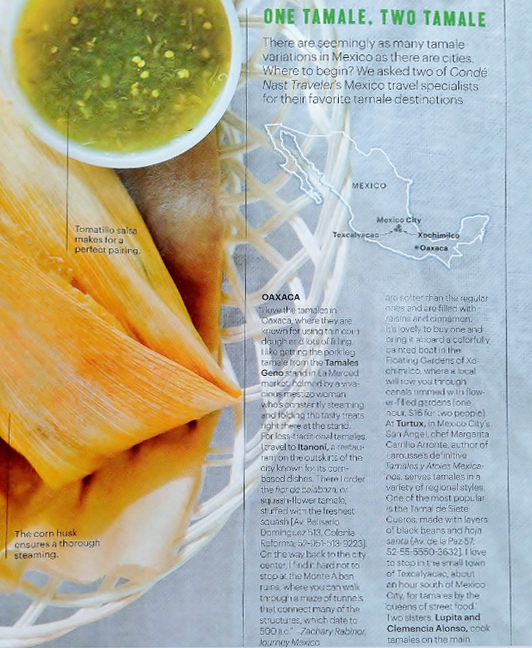 Journey Mexico's Tamale Recommendation:
"I love the tamales in Oaxaca, where they are known for using thing corn dough and lots of filling. I like getting the pork leg tamale from the Tamales Geno stand in La Merced market, helmed by a vivacious mestizo woman who's constantly steaming and folding the tasty treats right there at the stand. For less traditional tamales, I travel to Itanoni, a restaurant on the outskirts of the city known for its corn based dishes. There I order flor de calabaza or squash-flower tamale, stuffed with the freshest squash[Av. Belsario Dominguez 513, Colonia Reforma; 52-951-513-9223]. On the way back to the city center, I fnd it hard not to stop at the Monta Alban ruins,w here you can walk through a maze of tunnels that connect many of the structures, which date to 500 B.C." – Zachary Rabinor, Journey Mexico
To read the complete article, pick up the July 2013 issue of Condé Nast Traveler; or you can read it here: The Best Tamale I Ever Ate Was Also the Stupidest.
Can't get enough tamales!?
We  asked our friends on Facebook to tell us their favorite place for tamales and here's what they said:
"[Tamalli, in Mexico City] is a little frou-frou as it's not buying from an old lady you know or from a long-standing family business or puesto, but I love the tamales from this place, especially the chocolate ones. I always ask my mother-in-law to get me some from here at Christmas when I visit." -Maura Hernandez, The Other Side Of The Tortilla
"My favorite tamales are the Yucatan-style tamales, specifically tamales torteados that we eat in downtown Cancun" – Laura Winfree de Mendez , Gringation Cancun
"According to popular consensus among my tamale loving friends in Oaxaca, the favorite tamales can be found at the Sanchez Pascua Market on Porfirio Diaz in the center of town. So head there to find Catalina Minerva Paz who runs Tamales Cande and eat the best Tamale Oaxaqueños in town! Wash it down with a fresh juice from the Super Jugo stand next door!" – Susannah Rigg, Mexico Retold
"Oaxaca! They ruined me on Mexico City tamales forever. The best ones I tried were on a tour with Susana Trilling, at the market in San Agustín Etla. I still dream about the squash flower-chepil ones." – Lesley Tellez, Eat Mexico