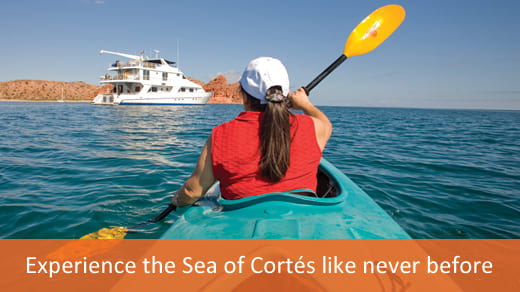 Jacques Cousteau once called Mexico's Sea of Cortés "The aquarium of the world," and for good reason as 39% of the Earth's marine mammals either live in or visit the Sea of Cortes during their lifetime. Nearly all of the World's Gray Whales are born just off the coast of Baja, Mexico and each winter, thousands of Gray Whales migrate back down to Mexican waters to breed – offering travelers unforgettable up-close-and-personal encounters.
Traditionally, exploring the Sea of Cortés and its wildlife has meant camping in the rugged terrain of Baja California, which is great for adventure lovers but can be discouraging for Grandmom and the kids. Now, however, Journey Mexico is excited to offer a fabulous alternative: an eight-day, seven-night cruise aboard a 120-foot, 22-guest yacht.
On The Sea Quest Explorer, you'll tour the Sea of Cortés, a World Heritage biosphere reserve that harbors more than 900 islands (many uncharted), flora, fauna, and animals found nowhere else in the world. In addition to whale watching and site-seeing, travelers will enjoy a burro ride through the arroyos, swimming with baby sea lions, and a visit to Isla Coyote, a tiny island populated by only two families! Included in the experience are two-person sea kayaks, paddle boards, snorkeling and water-skiing equipment, a sailboat, and motorized shore boat for close-up wildlife viewing.
As a kick off promotion, we are pleased to offer travel credits of $200 dollars per person (and $400 dollars for teenagers) for select travel dates booked by September 30th, 2011. For more information, please inquire at [email protected]!