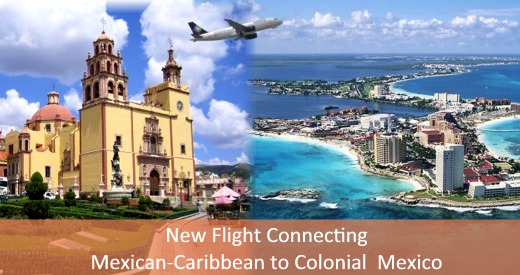 This article has been translated from Leon-Mexico.com
Volaris Airlines announced the launch of new routes within Mexico, one which will connect Cancun with the Colonial region of Mexico through the airport in León, Guanajuato. The new route will run two times a week and they will be using Airbus A319 and A320 planes with capacities for 144 and 177 passengers, respectively.
The first connection between León-Cancún started March 29 with two weekly flights on Thursdays and Sundays. Jesus Almaguer Salazar, the Cancun Director of the Visitors and Conventions Office considered that both flights would allow the influx of tourism to the Bajío region just in time for spring vacations, which opens the door to  potential markets to and from the Mexican-Caribbean and until now was only catered by Magicharters.
In an interview, Salazar highlighted that the tourism from these cities and neighboring states had to travel through Mexico City or Guadalaraja to get to Cancun,  and the new flight routes will produce a reduction in traveling costs that will translate into a larger spending by these tourists  in the areas they are visiting.
Other new routes from Volaris include: Mexico City to Puerto Vallarta, Cancun to Aguascalientes, Guadalajara to Puebla and  Guadalajara to Los Mochis.
When planning your trip to Mexico, don't forget to research Mexican airline carriers for their international flights. VivaAerobus, Volaris, Interjet, and AeroMexico are continuously expanding beyond their domestic routes.