Playa del Carmen is situated on the south-east coast of Mexico in the state of Quintana Roo in the Yucatan Peninsula. Warm white powdery sand beaches and turquoise crystal clear waters together with the famous Mexican hospitality make this a place like no other!
Playa del Carmen is named for Our Lady of Mount Carmel, who is the patron saint of Cancún.
Playa del Carmen dates back to 300-600 a.d. where it was a stop for travelers during the Mayan civilization. There are plenty of small ruins in and near Playa del Carmen. But just as there is great history in the area, there are great resorts that marry a cultural experience with a luxurious vacation. Here are our Top Picks for Luxury Resorts in Playa Del Carmen.
Grand Velas Riviera Maya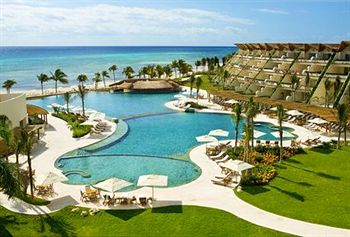 If you're looking for luxury in a Playa del Carmen resort, you've found it in the Grand Velas Riviera Maya. It is one of the newest resorts in the area (opened in 2008) and now considered a premier vacation destination located on the immaculate white sand shore of Playa del Carmen. The Grand Velas is has stylish and graceful accommodations. This resort has over 1,000 feet of exclusive beach and is set over 80 acres of protected jungle. This All Inclusive, Five Diamonds Luxury Resort provides its guests with the uniquely Mexican world-class hospitality.
Luxury accommodations include uniquely exotic garden suites, ocean view suites and ocean front suites, some with private plunge pools.
The Grand Velas is also dedicated to provide a balance between body and soul and offers hydrotherapy, and avant-garde menu of treatments for the health and wellness conscious visitor.
Find out more about the luxurious Grand Velas Riviera Maya.
Mosquito Blue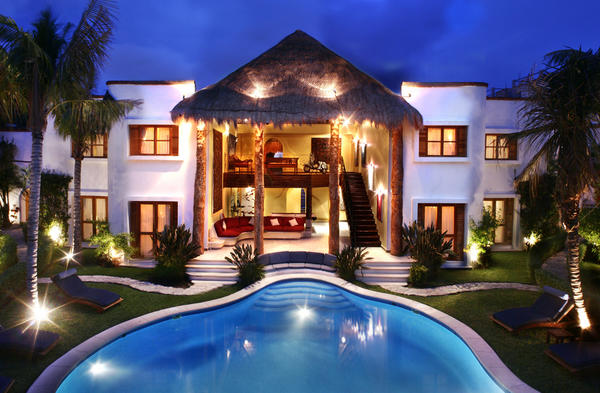 Mosquito Blue is Playa del Carmen's most unique hotel and resort. It is the first boutique luxury hotel in the area. This hotel is a where urban hip meets beach resort. The Italian owner, inspired by contemporary European style and tropical colors, created this peaceful oasis with a tropical chic décor mixing modern elegance with casual beach living.
Playa del Carmen's first boutique luxury hotel. Since 1995, Mosquito Blue has been a trendsetter, offering accommodations that are cosmopolitan, trendy, and stylish, yet comforting, relaxing, and rejuvenating.
The Mosquito Blue offers gourmet dining with a team of Italian chefs that transform traditional Mexican Caribbean ingredients into exquisite Mediterranean Italian cuisine.
Located on 5th Avenue, Mosquito Blue's guests are in the heart of the shopping, dining and nightlife of Playa del Carmen.
Mosquito Blue redefines luxury and pampering with special touches that are the hallmark of refined Playa Del Carmen hospitality for this unique Mexico resort.
Find out more about the Mosquito Blue Hotel.
The Viceroy Riviera Maya (Previously The Tides)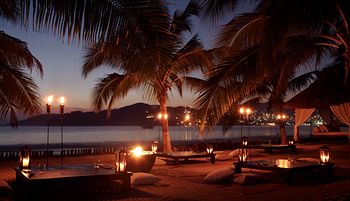 The Viceroy Riviera Maya is located on the white sands of Playa del Carmen in a small village called Playa Xcalacoco. The architecture of the resort accentuates its jungle setting.  The Viceroy is a 41-villa luxury resort with a stunning spa, offering guests intimate and serene features both indoors and outdoors.
Travel + Leisure magazine referred to the Viceroy Riviera Maya as "a sexy, eco-conscious hideaway in the jungle"
This luxurious resort is decorated following Mayan aesthetics and utilizes natural materials throughout.
Dinning is also first class at the Viceroy, serving refined Mexican cuisine with international influences.  With its policy of "Dine Anytime, Anywhere" Viceroy's guests can enjoy it's restaurants, bars and lounge areas 24 hours a day.
Culinary enthusiasts can also participate in cooking classes held in a traditional outdoor Mayan kitchen with native pit-ovens and a palapa roof.
Guests also may enjoy the many activities in the area including golf, horseback riding, polo lessons, fishing, parasailing, kite surfing, skydiving, bird watching, nature walks, tennis and jungle tours.
Find out more about the luxurious Viceroy Riviera Maya Hotel.
Hacienda Tres Rios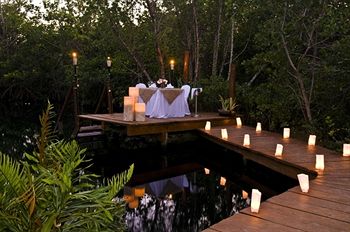 Also one of the newest resorts in Playa del Carmen, Hacienda Tres Rios is at the forefront of sustainable tourism. The beachfront resort is all-inclusive luxury. It is nestled in a 326-acre nature park and provides 273 luxury suites.
Hacienda Tres Rios is an eco-tourism destination and offers the authentic adventure of the Riviera Maya.
Outside the plush suites of the hotel, the natural environment unfolds amidst acres of rivers, an estuary, ten cenotes (fresh water springs) and a tranquil sandy beach.
The resort also offers two pools, nearby equestrian center and a private yacht club. It's SPA offers the unique temazcal bath experience. Guests can also participate in guided eco-park tours, snorkeling, and three rivers for swimming, kayaking, and birdwatching. The never-ending activities at Hacienda Tres Ríos create the ultimate vacation experience, no matter age or interests.
More information can be found here about the luxurious Hacienda Tres Rios Hotel.