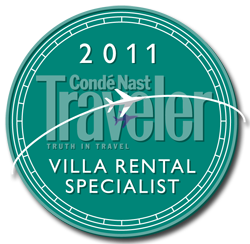 Journey Mexico is proud to announce that founder and president Zachary Rabinor has recently been awarded as one of the World's Top 44 Villa Specialists, representing Mexico for 2011 by Condé Nast Traveler. The list was created by top travel authority Wendy Perrin and team, who take great care and pride in their travel recommendations.
According to Condé Nast Traveler, "Six years of putting villa rental agents through their paces—renting from them, accompanying them on villa inspections, interviewing them, hearing feedback from readers—have produced this list of the experts best qualified to match you with the right property. The agents on these pages have visited every home they represent (all handpicked for their authentic sense of place), have slept in many of them, and reinspect them at least annually."
This Villa Specialist Award comes in addition to Zach's recent achievement of being chosen as one of the World's Top 135 Travel Specialist by Condé Nast Traveler. You can view Zach's profile on Wendy Perrin's Truth.Travel site, which was created to bring trusted travel insight to the discerning traveler.
Be sure to pick up the hard copy of this month's issue of Condé Nast Traveler containing the Top 44 Villa Specialist list (on page 103) at your local newsstand today!